21st July 2020
Wild Swimming near Bristol – a walking route
After 5 years of living in Bristol, I finally made it to Warleigh Weir (sometimes called Claverton Weir) yesterday.
I think I had been slightly hesitant after reading about it being overcrowded on sunny days, full of litter and there being no parking spots.
But I decided to do some research, invite some friends and plan a route!
I found there weren't many clear routes and instructions for how to get there, where to park, and so on, online. I like to know as much DETAIL in advance, so I hope this is useful for you!
This is what I had in my sights:
Is there any parking at Warleigh Weir?
The owner asks that people do not bring their cars near Warleigh Weir. Despite there being a few spaces on Ferry Lane leading up to the weir, they are not to be used and most are marked with double yellow lines. He also warns that parking on the busy A36 is very dangerous.
Instead, get the bus, cycle, walk!
So where can I park to get to Warleigh Weir?
We parked in the carpark by Dundas Aqueduct in between Bath and Bradford-on-Avon. The link above will take you to Google Maps. The pin won't take you all the way to the carpark. If you're coming from Bristol, go on a little further and you'll see a sign to the 'Canal Visitor Centre' and a turning off to the left.
You will need to pay for parking. It's £5.00 for the day, £4 for up to 4 hours from my memory and £2.50 for 2 hours I think. We arrived at 5.30pm on a Sunday, with just 1/2hr left of paid parking time left. The carpark closes at 9pm in the summer. You can pay with card as well as cash (at the time anyway.)
There did seem to be some car spaces on the road before turning into the carpark, but I don't know if they were free and it is a very busy road so I wouldn't recommend it. It's also further to then walk down to the canal.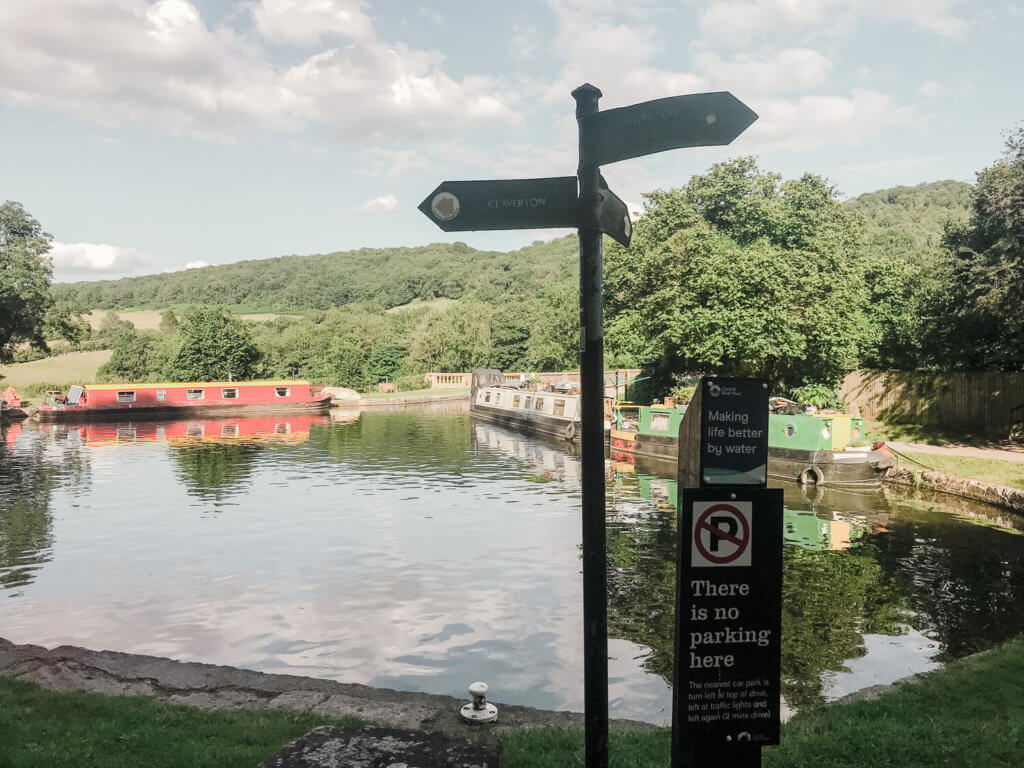 From the Dundas Aqueduct carpark you can walk down the path at the end of the carpark. Then walk up and round to the left, making sure you take this left turn at the sign post, heading towards Claverton.
It's then a lovely walk along the canal, about 30 minutes (for the total from the carpark to the weir I'd allow 30-45 minutes, depending on your walking pace).
The time passed by quickly as we had come with two friends to enjoy it all with. Why not enjoy the journey AND the destination. You can have it all on this route!
It's pretty serene and lovely to observe the different boats that people live in and all of the wild plants and flowers growing along the river banks, the ducks and swans enjoying the summer.
You can also cycle along the path but it is quite narrow so I would recommend having a bicycle bell to alert people you're coming through. We had to move out of the way for a LOT of bikes!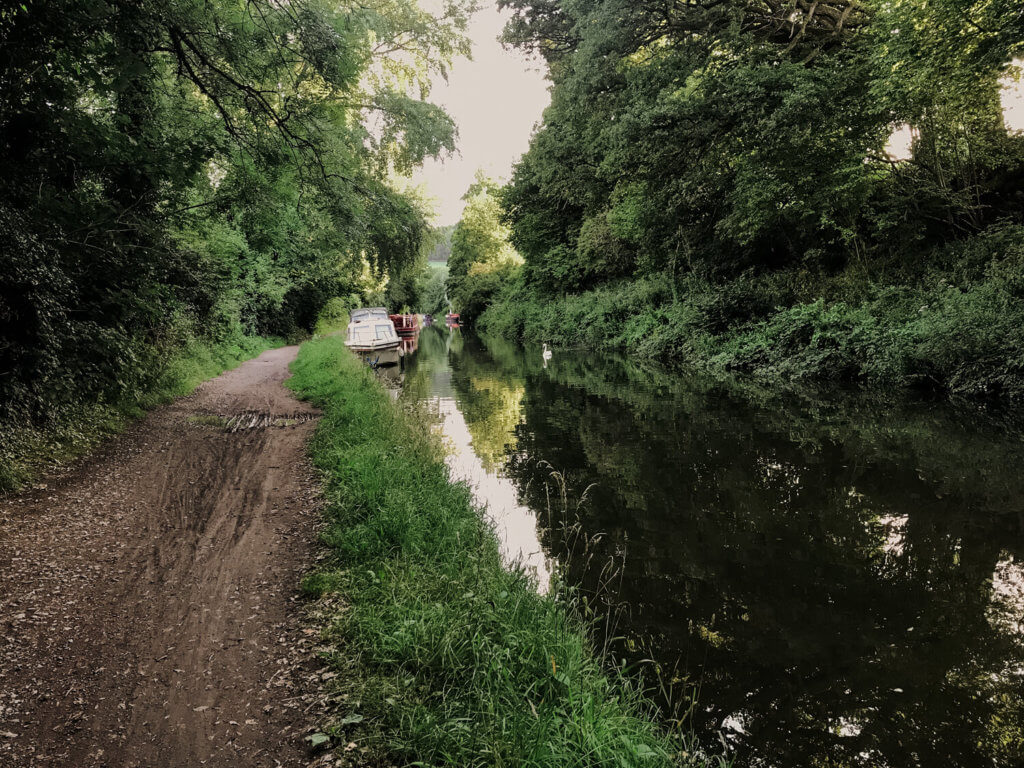 You just keep walking straight on.
After about 30 minutes you'll get to this gate and another signpost. You want to head towards Claverton Pumping Station, a slight right.
You'll head down the hill, pass by the Pumping Station and cross the railway tracks.
If you're lucky, there may be an icecream van there to enjoy a treat from. Otherwise, there's no facilities there – so bring your own snacks and drinks and take all of your rubbish with you.
And then. Here you are. Paradise.
It was as luscious as it looks. It was 360 degrees green, with the odd train rushing past in the distance. We arrived at about 6:30pm on a Sunday night and there were just a few people there. I walked with my husband along the walkway (slippy!) and then I swam. The water was fairly cool, but I adjusted and breathed it all in. It was the first time I had swum outdoors since a beach trip on March 15th (just a couple of days before the UK started plans for lockdown). It was so refreshing.
The first pool is quite shallow and then it gradually gets deeper. It looks like you could swim down the river for quite a while. We also saw people with canoes and paddle boarding.
It was well worth the trip and I look forward to going again some time.
Further notes
We may have been lucky with how quiet it was when we arrived, but I imagine earlier and later on in the day would be best for avoiding crowds in general.
Can I bring a BBQ to Warleigh Weir?
You can't I'm afraid! Check out other FAQs on the Warleigh Weir website and Facebook page.
Can I get to Warleigh Weir from a different direction?
Go Jauntly has a 'canalside amble' route from Bathampton which is family-friendly and with the free app there's little prompts along the way to spot things as you go.
Looking for more wild swimming spots?
Check out the Wild Swimming, Outdoor Swimming Society, and Outdoor Swimmer websites for ideas. If you want to find people to go on wild swimming adventures with, have a look on Meetup.com and Facebook for local groups.
I also recommend this book 'Wild Swimming Walks'* for some walking routes to lovely outdoor swimming spots in wild natural spaces. I tried some out when I was in Dartmoor a couple of years ago.
Come and find me on Instagram for more inspiration like this.
Have a look at what else I've got going on here – events, an online community and wild inspiration!
*This is an affiliate link. If you click through and end up purchasing the book, I will earn a small commission at no cost to you.