Into the woods: Forage, Fire & Feast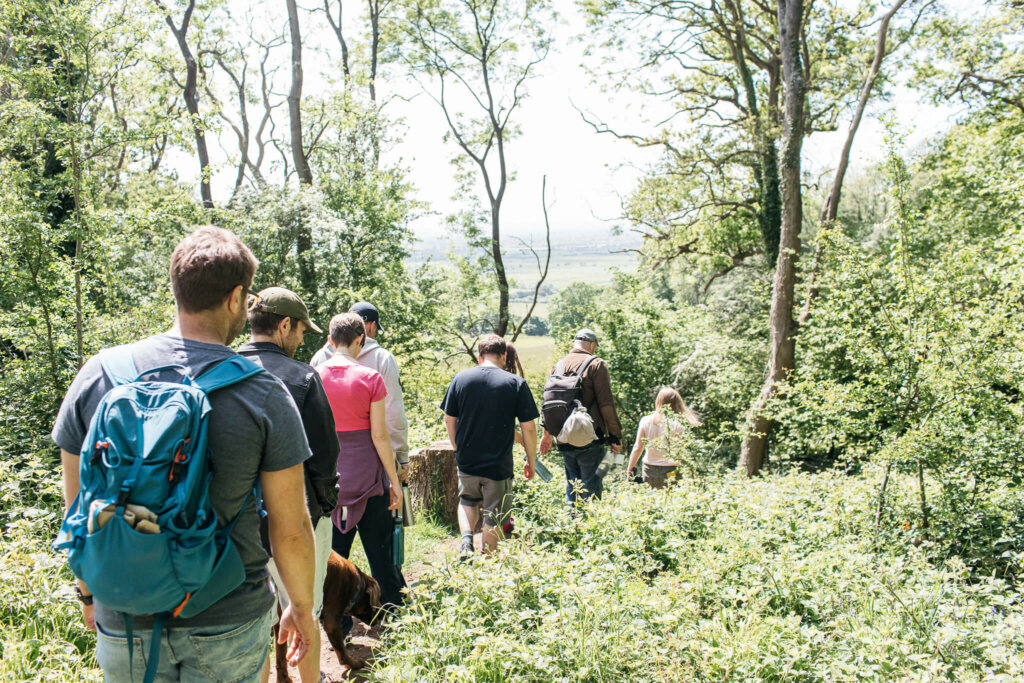 Forage, Fire and Feast – private groups
Spend a day in the woods, learning about edible plants, foraging wild flavours and cooking delicious food on an open fire. After cooking up your dishes your group will share a late lunch together in Brown Rock Farm's beautiful rustic roundhouse in the middle of the woods. This is more than a day for learning, it's a chance to enjoy being outside all day, surrounded by nature.
This immersive experience will focus on Eastern Mediterranean style dishes cooked over fire with a twist of the wild. For George, it's all about feeding his passion of wild flavours, fire cooking and providing an unforgettable experience. His background includes 15 years cheffing, professional foraging and outdoor cookery.
Picture this: flatbreads, hummus and labneh, slow cooked lamb or vegetable tagine, chargrilled root vegetables, a dessert using seasonal fruit and plenty more. We can assure you: you won't leave hungry! Your hosts will be Hannah from Wild Folk and George Fredenham, a chef, distiller and forager based in London, known as 'Flavour Fred'.
Your day in nature will include:
– A woodland 'flavour led' foraging walk (2-2.5hrs) with George
– Food + drink samples during the foraging walk
– Demonstration of cooking over fire and how to incorporate wild ingredients
– Hot drinks and snacks throughout the day
– A delicious lunch to enjoy together (some pre-made by George, some made by you during the day!)
– A professional chef and forager to fire questions at
– There will be the invitation to get involved with the food prep and cooking and to have intentional moments of quiet in the woods
One participant said when we were enjoying our lunch,
'Today has felt timeless.' And that is exactly how we want this day to feel for you – spacious, without rush or hurry. We want you to finish the day feeling refreshed, energised, inspired, content, rested.
HOW TO BOOK – If you would like to book this experience for a private group of up to 18 people, please get in touch with Hannah – hello@wildfolk.org.uk
There may be the option to extend your day in the woods, for example by camping overnight or to incorporate this as part of a longer day or weekend team event – please let Hannah know about your hopes and requirements for your gathering when you get in touch.

To be notified on when this experience is available to the general public for individual bookings, please sign up to the waitlist below.
Location
Brown Rock Farm, Tickenham, Bristol. Parking and meeting point details sent on the week prior to the event.
We may be able to offer an alternative site further south for groups not local to Bristol.
Dietary requirements
We can cater to different requirements – please specify on booking.
Notes
This event will only be cancelled in bad weather if there are dangerously high winds or if the weather is deemed dangerous for our activity.
You will be contacted ASAP if this is the case.
Join the waitlist below to be notified if we release a new date for this workshop for the general public. If you see 'Thanks for subscribing!' after signing up below then you have successfully been added to the list.
HOW TO BOOK – If you would like to book this experience for a private group of up to 16 people, please get in touch with Hannah – hello@wildfolk.org.uk